Interviews
Corporate Social Responsibility in Shipping: Successful Management of Exposure to Potential Liability. Interview of Capital Link CSR (CLCSR) with Clay Maitland, NAMEPA Founding Chairman & Managing Partner at International Registries, Inc.
February 11, 2013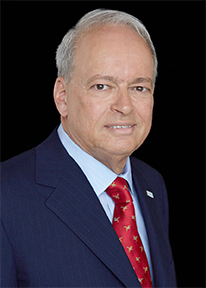 CLCSR: As a flag state administrator, what do you consider to be the most important CSR issues facing the industry today?

Clay: One issue is, to my mind, dominant: managing exposure to liability and risk. The industry's loss profile is, in terms of cost, unsustainably high.

Insurance, third-party liability, salvage, and wreck removal are among the burdens that profoundly affect the "bottom line". CSR is not just about being a "good citizen". It is, to a much larger extent, about successful management of exposure to potential liability. CSR programs can influence a company's risk management culture for the better, promoting an awareness throughout a company that safety/risk controls may limit or prevent very large losses. So, CSR is good sense!



CLCSR: as Founding Chairman, do you have another view?

Clay: No, I don't. Ships have gotten much bigger. This is one reason that risk exposure has expanded so much. If a giant containership or passenger vessel gets into trouble, the loss exposure is mind-boggling.



CLCSR: What do you believe is the most compelling reason for industry to embrace CSR?

Clay: Well, I think that I've already summed it up.



CLCSR: What are the barriers to practicing CSR in all aspects of a company's enterprise?

Clay: In a word, budgets. In another word, charterers. We see that financial controllers deal in numbers, rather than quality. They tend to undervalue CSR's importance as a cost management tool. Another obstacle is the industry's failure to adopt a means of sharing, between owners and charterers, a joint commitment to CSR, and therefore to quality. The Deepwater Horizon disaster, and BP's massive consequent losses, is a good example -- but far from the only one.



CLCSR: How can policy-makers/regulators and industry create a better understanding towards sustainability?

Clay: By changing our laws, and awareness by the regulators themselves, as follows:
to strengthen the International Safety Management (ISM Code), and to eliminate the "channelling" of liability to the shipowner. Charterers and other stakeholders must be made to have a real incentive to choose quality over the cheapest price. Charterers generally do not reward owners for quality, because they do not see it to be worth their while.




CLCSR: What does the "C-Suite" (CEO, CFO, COO) need to understand about CSR?

Clay: That the old saying is true: a fool knows the cost of everything, and the value of nothing. CSR is the road to understanding this fact, and to overcoming it.


CLCSR: is there an opportunity for harmonizing international and regional regulations?

Clay: Through the IMO, yes. But in the US, federalism, and localism, often prevails. I'm not optimistic, unless we act collectively on the international level.


CLCSR: Do you believe the shipowner associations are meeting the needs of industry to navigate a path of sustainability?

Clay: No, I don't. They are peopled by members with excellent intentions and high aspirations. But their internal disagreements and compromises have in recent years weakened their will to take positions, and make decisions. All too often, they have become a means of getting the news, rather than makers of policy. The shipping industry, in consequence, has a weak voice in the corridors of power. Often - but not always - its representatives prefer to react to incidents and events as they develop rather than take proactive stands reflecting an awareness of public concerns. This gives the impression of a backward and uncaring maritime constituency.



CLCSR: How does NAMEPA contribute to industry sustainability?
Clay: We are committed to engagement and awareness: with regulators, private industry, environmentalists and the public. We sometimes describe ourselves as a portal, or gateway. I prefer the term "facilitator". Our real aim is not "sustainability" --- a word that means a lot of vague things. Rather, we seek to promote higher standards, and an awareness that the broad array of shipping interests have much to cointribute (and do contribute) to a healthier and cleaner marine environment.








About NAMEPA: The North American Marine Environment Protection Association (NAMEPA,) launched in 2007, is a maritime industry-led initiative which engages maritime businesses, government and the public to "Save our Seas" by promoting sound environmental practices. NAMEPA operates as a nongovernmental organization committed to preserving the marine environment through educating seafarers, port communities and students about the need, and strategies, for protecting this important global resource. For more information, go to www.namepa.net.


About Capital Link CSR: In order to raise awareness of CSR & Sustainability isseus to a wider audience, Capital Link has initiated an activity dedicated to CSR. This includes a website (www.MaritimeCSR.com) which features relevant news and showcases company initiatives and practices in this area, and an Annual Conference in London which is now in its 3rd year. NAMEPA cooperates with Capital Link along these initiatives.